Guns have significantly shaped human history, from earliest development to modern-day use. While many firearms are highly prized for their historical significance or unique features, some are true masterpieces of craftsmanship and design. 
In this article, we will look at the five most expensive guns ever sold, exploring the unique features and fascinating histories that have made these firearms so highly sought after by collectors and enthusiasts worldwide.
Millikin Dragoon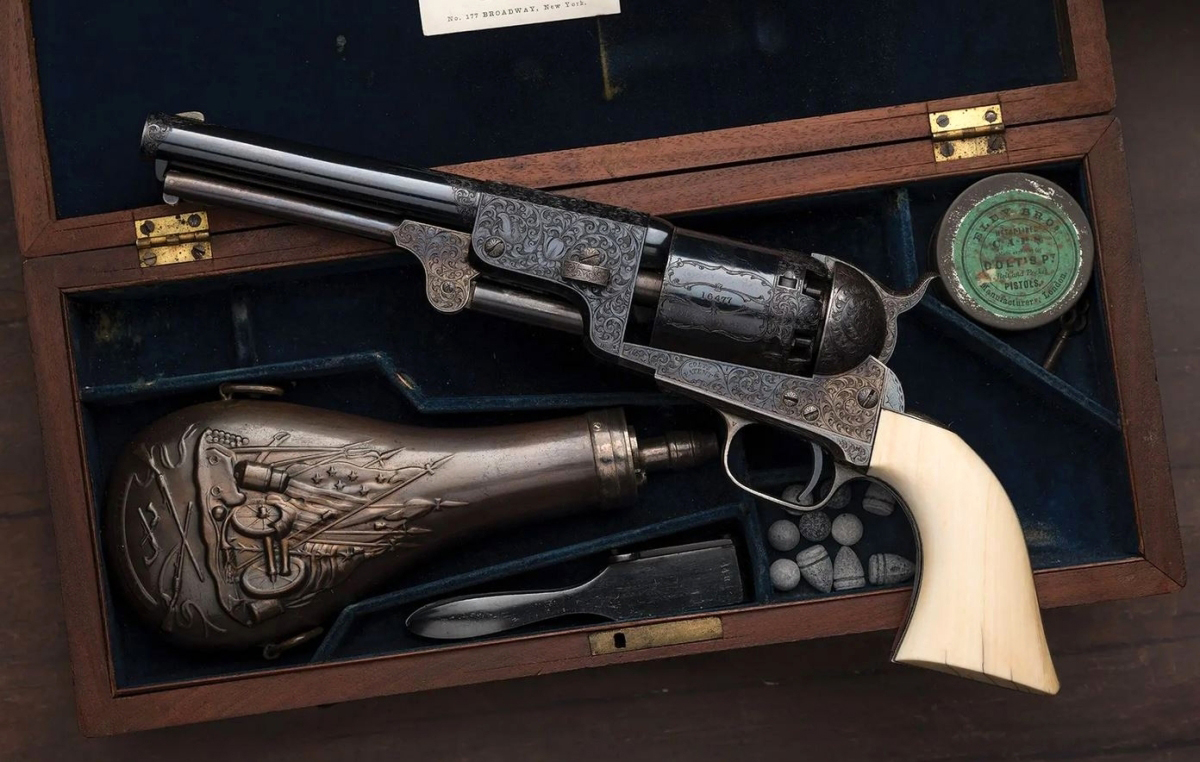 Millikin Colt Dragoon Revolver
Sale Price: $1.66 million
Carefully engraved by the renowned engraver Gustave Young, this exquisite Colt Third Model Dragoon revolver belongs to the factory's exclusive group of presentation guns, as evidenced by its serial number. 
This historical piece was once the pride of Colonel John Millikin, who lost his life in 1862 during the tumultuous Civil War. Upon his passing, the treasured firearm was then passed on to his son Paul. To honor their bond, Paul's name and rank are etched into the revolver's backstrap for posterity.
It was sold at auction by Rock Island Auction Company for $1.66 million in 2019 against a pre-sale estimate of $1.2 to $2 million and is now in a private collection.
Bolivar Pistols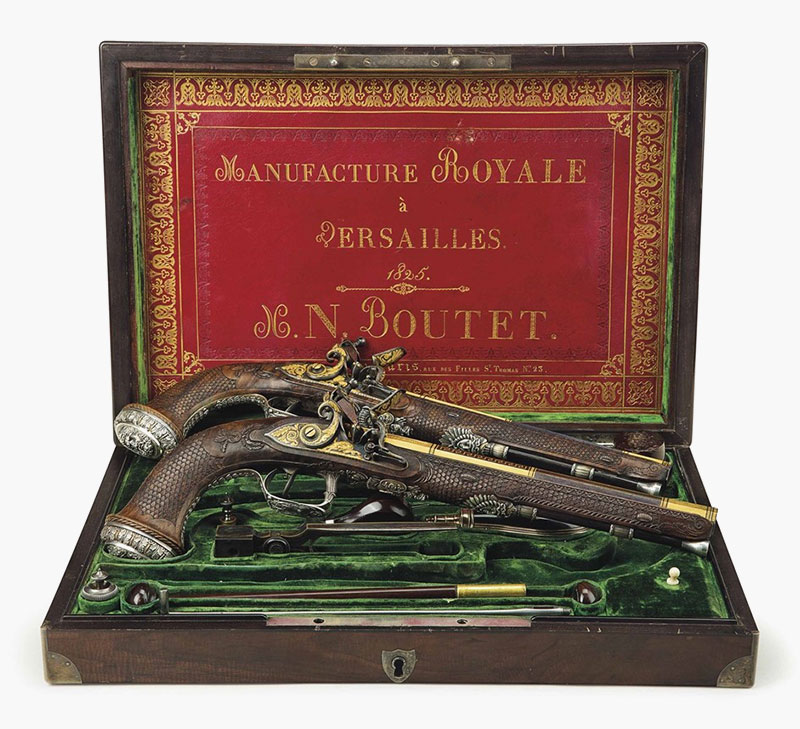 Sale Price: $1.80 million
Crafted masterfully by Nicolas-Noël Boutet, these exquisite pistols were a precious gift from the Marquis de Lafayette to Simón Bolívar in 1825. Bolívar, a fervent advocate for independence, devoted his life to liberating six South American nations, earning him the esteemed title of "the George Washington of Latin America." Boutet, who served as Napoleon Bonaparte's personal gunsmith, is celebrated as one of the most skilled gunmakers in history. This exceptional pair of pistols beautifully showcases Boutet's unparalleled craftsmanship.
They were sold at auction by Christie's for $1.80 million in 2016 against a pre-sale estimate of $1.5 to $2.5 million and are now in a private collection.
Sea Captain Walker
Danish Sea Captain Colt Walker
Sale Price: $1.84 million
A multitude of factors contribute to the rarity of a firearm, and this particular piece boasts a remarkable combination of those traits. First, it's a civilian Colt Walker – a model with a limited production of only 100 and an even smaller number of known survivors today. Furthermore, it is the sole verified cased civilian Colt Walker revolver straight from the factory. The icing on the cake? It's the only Colt accompanied by documentation in Sam Colt's penmanship, dating back to the original sale. 
This exceptional weapon earned its moniker after being acquired by a Danish sea captain, Neils Hanson, during his visit to New York City in 1847. The captain brought it back to Denmark, where the gun remarkably withstood the test of time, including a hidden burial in a garden during the Nazi occupation, before ultimately returning to the US post-war.
It was sold at auction by Rock Island Auction Company for $1.84 million in 2018 against a pre-sale estimate of $800,000 to $1.3 million and is now in a private collection.
Washington Pistols

Lafayette-Washington-Jackson Pistols
Sale Price: $1.98 million
During the heat of the Revolutionary War, the Marquis de Lafayette gifted a pair of finely-crafted Jacob Walster pistols to George Washington himself. Following Washington's passing, the prized guns became part of his vast estate, eventually passed down to numerous indirect heirs. Fate took an exciting turn when the pistols ended up in the possession of Andrew Jackson. In 1826, the Marquis had a chance to visit Jackson. Upon seeing the firearms, he confirmed they were indeed the same ones he had presented to Washington during the struggle for independence. After Jackson's death, the storied pistols were bequeathed to George Washington Lafayette, the Marquis' son, maintaining the deep connection between these historical figures.
Christie's sold them at auction for $1.98 million in 2002 against a pre-sale estimate of $1.5 million. They are now in the collection of Fort Ligonier in Pennsylvania.
Billy the Kid Revolver
Pat Garrett's Colt Single Action Army Used to Kill Billy the Kid
Sale Price: $6.03 million
Billy the Kid and Pat Garrett, the legendary outlaw and lawman pair of the Wild West, are eternally connected by a single revolver.
The firearm itself is a rather ordinary Colt Single Action Army revolver. However, its actual worth lies in its rich history. In a document from 1906, which could be either a loan agreement or bill of sale, Garrett confirms that he seized this very gun from Billy Wilson, a member of Billy the Kid's notorious gang, during the young outlaw's arrest. Garrett adopted Wilson's revolver as his own; fatefully, it was the weapon in his hand when he ended Billy the Kid's life in July 1881.
For 38 years, this revolver remained in one collection, always being sold privately from one individual to another. It wasn't until August 2021 that the gun appeared on an auction block. Bonham's sold it for an astonishing $6.03 million – shattering its pre-sale estimate of $2 to $3 million. The legendary revolver now resides in a private collection.
The Most Expensive Guns Ever Sold
The world of firearms has seen some truly remarkable pieces sell for astronomical prices. From antique guns to modern-day weapons, collectors and enthusiasts alike have shelled out millions of dollars to own a piece of history or a one-of-a-kind firearm. 
The firearms we've explored in this article are just a few examples of the most expensive guns ever sold. Still, they serve as a testament to these powerful tools' enduring appeal and value. Whether you're a collector, a shooter, or simply an admirer of fine craftsmanship, these guns will leave an impression on anyone who sees them.
Havok Holsters
Are you seeking a reliable, comfortable, and durable holster for your everyday carry?
Look no further! Havok Holsters specializes in custom Kydex holsters designed to provide maximum protection and ease of use for those who carry firearms. Our holsters are made with precision and care to ensure the perfect fit for your weapon.
Havok Holsters are not only built to last, but they also offer unbeatable comfort and a sleek design. Our high-quality Kydex material ensures durability and resistance to wear, while the custom molding guarantees a secure and comfortable fit for your firearm. With Havok Holsters, you can carry with confidence and peace of mind.
Don't settle for less when it comes to the safety of you and your firearm. Browse our collection of custom Kydex holsters and find the perfect match for your carry needs. Experience the Havok Holsters difference and upgrade your carry game today!